Stowe Farm

Whether exploring a pumpkin patch around Halloween or bringing the kids around to enjoy the petting zoo, Stowe Farm is always worth a visit. Generations of locals and out-of-towners have made this cherished site a regular destination. Events crop up throughout the year, there are year-round attractions for all ages, and you can also stock up on fresh produce like pumpkins and apples.
So if you haven't yet visited Stowe Farm, you can learn about this acclaimed venue by reading this spotlight or visiting their social media pages such as Facebook, Instagram, Twitter, or Flickr.
Interacting with Animals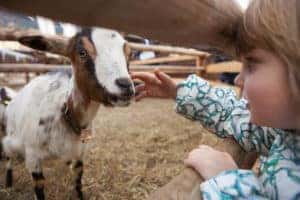 Stowe Farm has an assortment of farm animals they care for. There are multiple opportunities for guests to interact with these lovable creatures, too.
Horse riding is one of the farm's staples. You can sign up for a horseback riding camp or take horse riding lessons centered around jumping, trail exploration, flat work discipline, and more.
The petting zoo is also a great way for children to get up close and personal with their favorite barnyard animals. Goats, donkeys, miniature horses, and pigs are just a few of the species that thrive on the farm.
There's even a mechanical bull for those who aspire to test their rodeo skills!
Harvest Time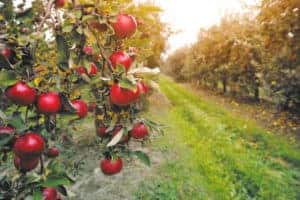 Harvest time is always exciting around the farm. Depending on when you visit, there will be an array of apples waiting to be plucked from their branches.
Early in the season, from around the beginning of September to the beginning of October, you'll find apples such as the Macintosh, Cortland, and Macoun in bloom.
Later in the season, favorites like the Fuji and Ida Red are ready to be picked.
Strong Traditions at Stowe Farm
Stowe Farm is now on their sixth generation of family care. The expert handling and maintenance of the farm has been passed down through the decades, resulting in a wide, expansive farm that is full of life.
So be sure to stop in for the apple picking, the homemade baked goods, the petting zoo, or any of the other wonderful attractions the farm provides!