Harr Toyota Service Center
Service is just a way of life when you rack up enough miles around Worcester, Auburn, and Shrewsbury. So where can you turn when your vehicle requires an oil change, tire rotation, or something more specific? The Harr Toyota Service Center has the tools, the expertise, and the dedication to keep your model running at its very best.
It starts with our certified technicians, a group who understands the ins and outs of any vehicle. From there, we have helpful resources such as our parts department, a state-of-the-art service facility, and more to ensure your model is receiving high-quality care!
Keeping Up with Routine Maintenance
Free ebook:Driver's Guide to Automotive Maintenance
How Long Do Tires Last?
Why Is My Oil Leaking?
Transmission Flush vs Change
How to Check Tire Tread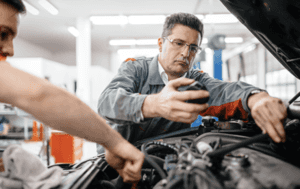 Whether you pilot a hulking truck or a compact coupe around the local streets, your vehicle will at some point require routine service. Oil changes should be executed about every 5,000 miles along with tire rotations, for instance. There's also the matter of replacing air filters and doing regular inspections to ensure lasting performance.
All of these standard procedures can quickly be knocked out at our shop. By booking your visit in advance and giving us an idea of what's needed, we'll have a team of technicians waiting for your arrival so they can get to work.
Also important is treating your vehicle with exacting care. The needs of your model are different than those of any other. So once our team gets to know you, your driving style, and your car, they can create a helpful service outline, one that highlights what services your vehicle will require and when these services should be performed.
A Handy Parts Department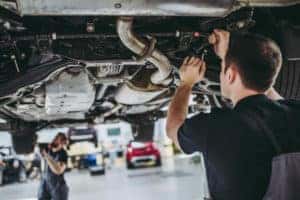 Over time, you'll want to install a new set of tires onto your vehicle or have the brake pads and rotors replaced. At our service center, we have a parts department brimming with quality pieces.
The goal is to locate the exact part your model requires and get it installed in a prompt manner. Our parts department makes this possible, but sometimes you'll need a very specific piece. If that's the case, we can lean on our dealership network, order the piece online, and once it arrives, we'll let you know so we can install it.
Check Out Our Helpful Online Tools
You can learn about service needs, book your visit to our shop, and find value-boosting service coupons all from the comfort of your home.
Online, we have a scheduling tool, which only requires you to select the time of your choosing to lock in a visit. With a rotating list of coupons, we also do what we can to help you receive peak value with each visit to the shop.
Your Friendly Service Center!
With everything your model needs to thrive, the Harr Toyota Service Center should be a go-to for any automotive need. So if you have questions, want to lock in a service appointment, or merely want to know more about keeping your model up-and-running around Worcester, Shrewsbury, and Auburn, give us a call.