Frequently Asked Car Dealership Questions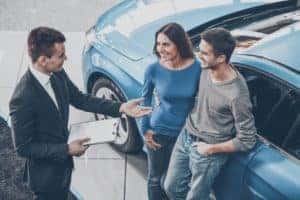 Q: How long does it take to turn in a leased car?
A: If you would like to return your leased car, Harr Toyota is happy to assist you. If you have a desired time frame just give us a call and let us know when you'd like to come in!
Q: Do you offer car reviews and comparisons?
A: Yes, Harr Toyota offers Toyota model reviews and comparisons for you to see which is the right Toyota for you! Check out our reviews and comparisons online today.
Q: Can you finance a used vehicle?
A: Yes, you can visit our finance center today and let our experts assist you with the finance process even with a used vehicle.
Q: Can you reserve a Toyota online?
A: If the vehicle of your choice is not on our lot or in current Toyota region inventory, and your time frame permits, we can reserve your new Toyota at no extra charge.
Q: Can I rent a Toyota?
A: Yes, whether you're headed out of town for a vacation, need a vehicle for business in a new city, or have your current car in the shop, you'll never regret a Toyota car rental.
Q: Do you have certified pre-owned vehicles for sale?
A: Yes, browse our expansive certified pre-owned inventory online or in person today!
Q: Do you offer financial assistance through the car buying process?
A: At our finance center, our financial experts will help you build the right financial plan whether you are leasing, buying, or trading in your vehicle at Harr Toyota!
Q: Do you have any hybrid and alternative fuel vehicles?
A: At Harr Toyota, we offer an array of hybrid, plug-in hybrid, and fuel cell electric vehicles with an enhanced hybrid battery warranty covering 10 years or 150,000 miles!
Q: Can I trade in my car at Harr Toyota?
A: Yes! Even if you don't buy one of our vehicles, you can still trade in your car for cash here at Harr Toyota! Check out our Value Your Trade tool online!
Q: Do you have any Spanish speaking team members to assist those who speak Spanish?
A: At Harr Toyota, we speak Spanish! The goal at Harr Toyota is and will always be to provide thorough, helpful assistance as you move through the car-shopping experience. So having staffers who can easily transition between Spanish and English is an invaluable asset. Call or visit Harr Toyota today to let a Spanish speaking team member assist you!
Q: Do you offer a military rebate?
A: Inspired by your courage and commitment, Harr Toyota offers a $500 rebate to eligible U.S. military personnel!
If you have any additional questions please reach out to our team today or fill out a contact form! We look forward to hearing from you!