Toyota RAV4 vs Nissan Rogue

---
Even if you haven't driven the Toyota RAV4 or Nissan Rogue, you're probably somewhat familiar with these popular SUVs. Both models are common sights around the streets of Worcester, Auburn, and Shrewsbury. Both options make a good fit for families, young adults, and commuters, too.
At Harr Toyota, we're always working to help local drivers find their ideal vehicle. Part of how we do that is with resources such as this Toyota RAV4 vs. Nissan Rogue comparison. So if a versatile, reliable SUV feels like the right fit for your lifestyle, learn more about the RAV4 and Rogue!
---
Toyota RAV4 vs Nissan Rogue: Picking Performance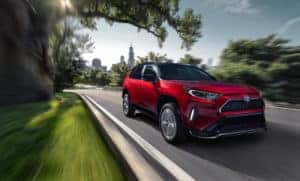 Having a say in the type of performance you want from your SUV will make the car-shopping process much simpler. With the 2021 Toyota RAV4, you can pick the engine you want placed under the hood. The same can't be said for the Nissan Rogue however, as the SUV offers just a single motor.
That Nissan engine is a 2.5L 4-cylinder that boasts 181 horsepower and 181 lb-ft of torque. A similar 2.5L 4-cylinder for the RAV4 makes more power, registering at 203 horsepower and 184 lb-ft of torque. With the Toyota engine, you can also choose from drive modes such as Sport, ECO, and Normal.
The alternative powerplant for the 2021 RAV4 is a refined hybrid 2.5L 4-cylinder making 219 combined system net horsepower. And once again, the Toyota engine lets you choose from specific drive modes that will adjust throttle response, traction, and other performance aspects on a whim:
---
Trunk Space
If you're looking at SUVs, you're probably going to have the occasional passenger sitting in the second row. When that's the case, Toyota has ensured the RAV4 can still deliver exemplary cargo room. The Nissan Rogue is close in terms of cubic footage, but the difference in the Toyota is noticeable.
With the 2021 Toyota RAV4, cargo room behind the second row measures 37.6 cubic feet while cargo room behind the second row of the Rogue measures 36.5 cubic feet.
---
Infotainment Technology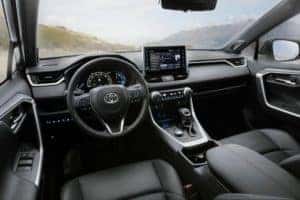 Without having to move up a single trim level, the 2021 Toyota RAV4 gifts you some fancy infotainment technology, more than what you'll find with the 2021 Nissan Rogue.
The ideal example is Apple CarPlay® and Android Auto™, a set of integration systems that will effortlessly link your smartphone to the vehicle's infotainment system. Both the Toyota and Nissan offer these features, but Toyota makes them standard while the Rogue requires you to move up trim levels.
---
2021 Toyota RAV4 Surpasses Nissan Rogue
With more performance options and standard technology, not to mention a roomy trunk, the RAV4 outdoes the Nissan Rogue. You can verify this result for yourself by contacting our Harr Toyota team and getting a test drive scheduled around Worcester, Auburn, and Shrewsbury.